---
Celebrate New Year's Eve at
A-Town Bar & Grill!
The end of 2015 is right around the corner which means it is time to start planning for New Year's Eve! Ring in 2016 in style with your friends at our Ballston restaurant and bar, as we transform our venue into a dazzling masquerade ball! General admission tickets and VIP tables are available, but are sure to sell out quick — make sure to reserve your spot today!
Get Tickets Now
Drink & Dine With Us Today!
---
Located just steps from the Ballston Metro Station, A-Town Bar & Grill is the go-to restaurant for tasty bites, creative cocktails, and a fun-loving atmosphere. Groups of all sizes can enjoy our American-style menu, which boasts a variety of delicious selections for lunch, dinner, brunch, or late night. No matter when you stop by, rest assured that the A-Town team will be ready to serve you!
To book a reservation, fill out the contact form to the right and a member of our staff will contact you shortly.
Please note that all reservations must be made

no less than 48 hours in advance

, or we cannot guarantee it will be accommodated. Reservations for brunch will not be accepted online and

must

be made by phone. 
Book Your Next Party At Our Arlington, VA Restaurant & Bar
---
It's no secret that delicious food, ice-cold drinks and good times are always in supply at A-Town Bar & Grill. These are just a few of the many reasons that our 6,000 square foot Arlington, VA restaurant is the premiere destination for private events of all types! From corporate lunches to charity fundraisers, birthday parties, and bachelorette bashes, A-Town provides a first-class experience in the heart of Ballston.
Reserve Your Event Today!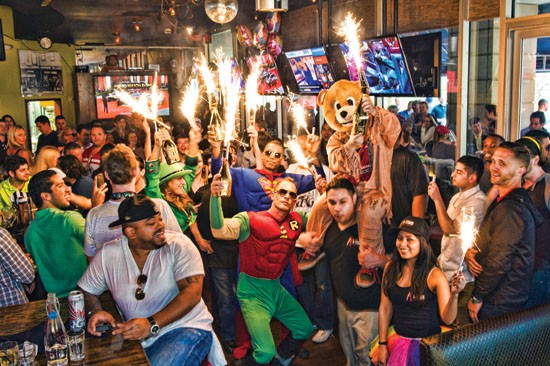 Press Testimonials
"If you're an Arlington local you're most likely familiar with A-Town. From corporate dinners to their notorious "Sunday Funday," A-Town offers it all. Some would go as far to say A-Town saved the Ballston bar scene… I have no food regrets and my stomach couldn't have been happier. Overall the atmosphere, service and food together add up to an A. Thank you Scott Parker and Mike Cordero for feeding us and for a wonderful time. I will definitely be back to stuff my face soon."Rebecca Urbanski, WUSA9

"The brunch spread at A-Town in Clarendon offers more than the typical daytime feast, and while the seats fill up, no one is here to just eat. They're holding a table for when, at 3 p.m., it turns from brunch to Sunday Funday. The shades are drawn and the D.J. moves from background Top 40 to thumping club music. Come for A-Town's buffet, but stay for the bear suits, sparklers and magnum champagne bottles."Northern Virginia Magazine

"As for the food that A-Town offers on these Las Vegas Sundays, the brunch buffet served from 10:30 a.m. to 3:00 p.m. offers everything from breakfast basics like Belgian waffles, fresh omelets and bacon to the highly popular crab legs, sushi, chicken wings and three-foot chocolate fondue fountain. Parker described the cuisine as "eclectic American," but I say it's more like the perfect hangover cure for a Saturday night party hopper… A-Town has been hot from Day One – known not simply as a restaurant, but as a destination."Molly Greenberg, DCInno

"There is no denying that A-Town and the newly opened Don Tito have been a very welcome sense of fresh (and fun) air on the Arlington bar scene… wildly popular A-Town and Don Tito have installed a renewed spirit in Arlington bar-goers; both venues have drawn crowds that would make DC hotspots jealous, while mastering the art of making VIP service cool and casual."Leigh Genetti, Guest of a Guest